B5G-OPEN JOCN Journal
"Deep Learning -based Real-Time Analysis of Lightpath Optical Constellations [Invited]," by Ruiz, D. Sequeira, and L. Velasco,
IEEE/OPTICA Journal of Optical Communications and Networking (JOCN), vol. 14, pp. C70-C81, 2022.
In-phase (I) and quadrature (Q) constellation analysis enables deep understanding of the characteristics of lightpaths. We present methods based on deep learning.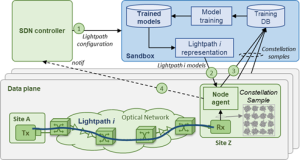 https://opg.optica.org/jocn/abstract.cfm?uri=jocn-14-6-C70